Our next HPH 1 Day Seminar will be held on November 4th, 2019 at 9 am in Cape Coral, Florida (20 min. away from Fort Myers Int. Airport). Please call 1-800-654-9884 for more info or to register.
That's me. Bodo, owner and costumer too.
Great Idea for your local TV advertising and your own business website. To customize for your company name and phone number! Works great for our local hair system retail studio in Cape Coral, Florida!
Call us to ask about customizing the ad for your business!
Important Information
Barbers, Beauticians, Salons, and Wholesalers with an active license – please register. For your special pricing, fill out our form and attach a copy of your active license. Thank you for providing your customers with the finest hair systems around and helping customers worldwide look good and feel good.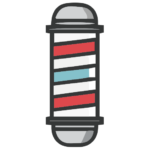 HPH Corporation has been in business for over 50 years, providing top quality and customer service to more than 28,000 customers worldwide, including 7,500 wholesale customers in 95+ countries. Our single-hair, hand-knotted Hair Systems are made with European Remi Human Hair or our Special KS Synthetic Fiber which creates the most natural and undetectable Hair System available on the market today!
We strive to serve each customer with a personal and private attention that most companies loose as they become too large to pay attention to the small details.
Please view all of our different products and feel free to inquire about more information on any product.
Also feel free to contact us at any time. Please see our Contact Us page on how to get a hold of us!
We always keep approximately 7,500+ Men's Hair Systems in stock in Small, Medium, and Large, in European Remi Human Hair or in Synthetic Hair for daily shipping all over the world! We also offer a full 3 month return policy for any hair system that is in the original uncut and unprocessed condition in its original packaging.
We presenting a totally new SUPER-THIN (0.2mm) SKIN BASE that sticks onto your scalp without any tapes or glues.
Available in 100% European Human hair or in our super natural Synthetic fiber hair (colorfast for 3 years). Send us the pattern (mold) or provide the measurements of the bald area for you custom made system.
This new generation of hair systems is what you've been waiting for – so easy to wear. No more messy tapes and glues!!
Not sure how to get into the Hair Replacement Business?
Bodo, the owner of the company, came up with this great idea. He would like to make it very easy for you to start this very profitable business! Do not leave it up to the big guys like "Hair Clubs," etc.
Special offer directly from the manufacturer, HPH Corp. Lowest prices and super natural systems!
Includes everything you need to get going:
Samples of Hair Systems (for men or women)
Samples of Hair System Accesories
Videos
Ad Samples
Color Rings
Measuring Cap